IDLab workshop for young researchers
IDLab workshop for young researchers took place on the 3rd of June. At the seminar, professors of the laboratory spoke about how they became scientists, about their further academic trajectory, and also gave advices to young scientists.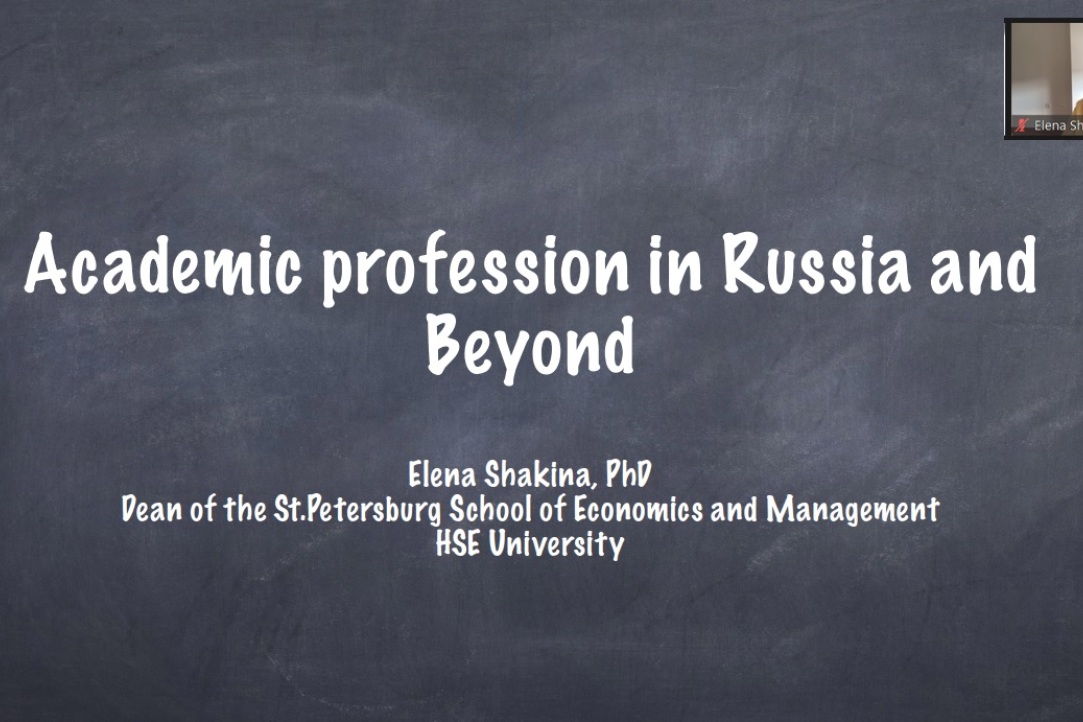 IDLab workshop started with a presentation by Elena Anatolyevna Shakina, head of IDLab. Elena Anatolyevna presented what the profession of a scientist is. For example, each researcher has several different responsibilities at the university, she must not only engage in scientific research, but also teach, solve organizational problems of the university ("I serve at the university"), and also consult external customers. This is exactly how contracts are arranged at the HSE University, but it turns out that contracts are arranged in the same manner at other universities. In particular, at the University of Valladolid, the ratio between these duties for academics should be exactly the same as in the picture below.
And then Angel Barajas (IDLab Research Supervisor), Dennis Coates (IDLab HSE University,UMBC), Felix Lopez Iturriaga (IDLab HSE University, University of Valladolid ), Carlos M. Jardon (IDLab HSE University, University of Vigo) take turns in speaking about the profession of a scientist.
Each of the professors has their own trajectory of becoming a researcher. For example, Dennis almost accidentally applied for a phd program while he was waiting for a decision at another job. Carlos defended 2 Ph.D. theses: in economics and in mathematics. But each of the professors said that they have a "dream work" and this is what allows, as Angel said, "to do well what we have to do".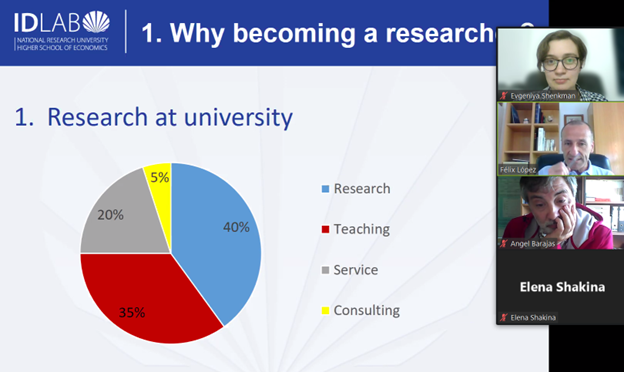 Sofia Paklina, 3rd year PhD student
I like it! I am very motivated when professionals talk about their work and how they got there. Moreover, the professors gave a lot of tips. And now for me these tips are more clear than when I first started :)
Evgeniya Shenkman, young researcher
I remember a few tips the most. The first one is Angel's advice, which was later supported by other professors - to concentrate, focus on one topic, until at least you defend your PhD thesis. And, as Dennis said, after the phd defense, do what you like for the rest of your life. The second advice is advice from Feli, you have to be patient and patiently go towards your goal, super relevant for me.
Maria Cheropita, 2nd year student of bachelor's program "Economics"
I really liked that professors are in sync with students, you can ask any questions and get answers without fear. It is very interesting to learn about the scientific career of foreign colleagues and compare with Russian opportunities. And with all this, there was no big language barrier, everyone spoke excellent English, I even learned a couple of new words