ID Lab ONLINE Workshop
Anna Bykova and Dennis Coates presented the results of the study "Economic freedom and performance in sports: evidence from US major leagues"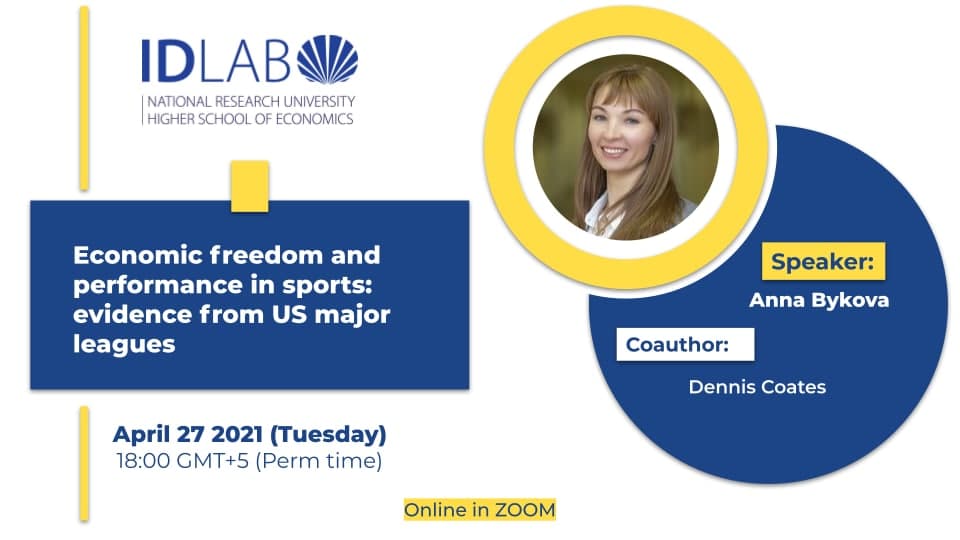 The theoretical literature identifies differences in institutions as one of the key sources of heterogeneity in performance at all levels. The links between institutions and performance have also been analysed in a large and growing empirical literature, relying on cross-countries (Acemoglu, Johnson, and Robinson 2005; Djankov et al. 2002; Botero et al. 2004), regions (Rodrik 2004; Heller and Stephenson 2014), industries (F. Klapper, Lewin, and Manuel Quesada  Delgado 2009) or organizations (Chen, Wang, and Lin 2014; Commander and Svejnar 2010; Blagojević and Damijan 2013) comparison. Scholars agree that that the institutional environment, defining formal and informal rules that economic agents have to follow, affects the results.  Efficient institutions reduce transactions cost and cost of enforcing contracts, thereby facilitating transactions that, in turn, enhance performance. Interestingly that at the micro level only firms were taken into analysis. However there are a lot of other types of organizations affecting by institutional environment. They look for human capital and can face some constraints from labour market leading to ineffective reallocation of human resources; they can attract financial capital for their activity and as ordinary firms might have higher transactional costs comparing with organizations located in territories with developed institutions, etc. Moreover, in difference with firms such an organizations can have an additional impact on their results as they have multiple goals apart from maximizing value. One of the examples of such organizations are football clubs who focus both on sports, i.e. number of points, and finance, i.e. attendance, performance. Surprisingly, that there are no studies exploring the relationship between institutions and team performance.To fill this gap in the literature, we hypothesize that the better institutional environment is, the higher team performance is. Our guess is based on the conventional wisdom that good institutional quality is essential source of growth. Moreover we expect that in countries with an average higher level of institutional development, the marginal effect would be lower comparing with underdeveloped ones. Finally, we are going to explore the differences in the effect for different types of performance. We implement the concept of economic freedom, developed by Fraser Institute, and Economic Freedom of North America (EFNA) Index  for US states (Karabegovic et al., 2003). The data have been combined with team level for major sports leagues in US, i.e. MLS, NHL, NBA and NFL for the 2004-2016 seasons. At the second step we break the Index into components and try to understand the particular channels of how economic freedom influences perforamnce.First, our results support our hypothesis and suggest that the marginal impact of economic freedom on team performance varies significantly within different kinds of sports. Also we confirm the hypothesis about significant impact of economic freedom on teams' performance. For example, for MLS we observed negative effect of overall Index and two out of three EFNA components, particularly spending and taxation. Finally, we observe differences in the effects for different indictors of teams' performance, which might have an important implication for league policy and authorities in whole.
The presentation sparked a lively debate about whether government intervention that lowers the index of economic freedom is always a negative factor, including in sports.