Joined workshop of IDLab and the Laboratory of Sports Studies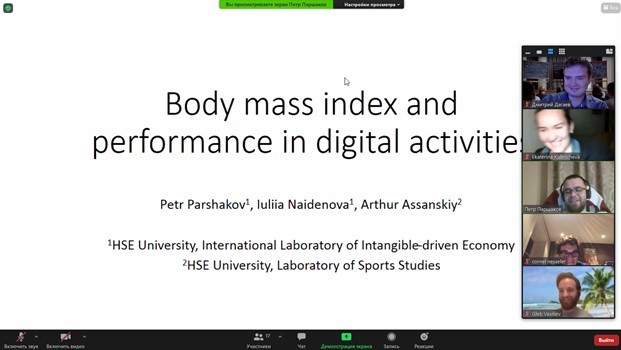 Petr Parshakov presented the results of the research "Body mass index and performance in digital activities", conducted jointly with Iuliia Naydenova (IDLab) and Artur Assansky (LSS). The study analyzes the impact of overweight and obesity on digital performance.
Obesity is associated with significant physical, psychosocial and economic burden globally. It also affects workers' productivity (Kudel et al., 2018; Untoro et al., 1998). However, to our knowledge there are no studies of such relationship in digital industries, which do not requires sufficient physical activities. One of the reasons is that such a relationship is difficult to estimate empirically due to a lack of data on BMI and individual performance. However, electronic sports (eSports) provide a good setting in which to test for such a correlation. In our study we use face-based BMI as an indicator of BMI and in-game performance indicators for professional CS:GO players as the estimates of individual productivity. We have found that in general BMI is negatively correlated with performance. The effect varies by match duration, severely obese gamers performs better in long matches.